Explosive-proof and intrinsic safety type frequency converter for mines
1、Explosive-proof and intrinsic safety type frequency converter for mines
uproduct description
The mine explosion-proof and intrinsically safe inverter produced by our company is specially designed for permanent magnet motors, and has good compatibility with permanent magnet synchronous variable frequency motors. It adopts direct torque control DTC/vector control to achieve precise torque At the same time, the inverter has the characteristics of high efficiency, superior electromagnetic compatibility, and strong environmental adaptability, which effectively reduces the interference to the power grid and surrounding equipment.
uScope of application:
It is widely used in mine belt conveyors, inclined shaft winches, overhead vehicles and other occasions. This type of frequency converter is also suitable for all kinds of asynchronous motors.
uMain technical features:
1) Independent integrated development based on imported high-performance inverter core controller.
2) Direct torque DTC control without speed sensor is adopted, with large starting torque and stable torque output.
3) The control software is specially designed for permanent magnet synchronous machines. Through techniques such as rotor positioning detection and torque angle matching, it effectively solves the common "startup difficulties" and "startup difficulties" of permanent magnet synchronous machines without a position sensor. "Insufficient torque", "start reverse" and other issues.
4) The main circuit adopts non-inductive laminated busbar technology, original Infineon IGBT, and the control unit adopts modular design, which is convenient to install and maintain, and the spare parts are unified.
5) The DC capacitor adopts highly reliable and maintenance-free thin film metal capacitors.
6) The standard configuration of input filter reactor, output filter, du/dt filter, etc., EMC index meets the requirements of national standard, the output distance of the inverter is long, and the influence on the motor insulation is small.
7) Based on the power balance of the star-shaped optical fiber network, when multiple machines are running, the master-slave and master-slave modes can be switched at will, and the power error of the multi-machines is less than 5%.
8) Efficient water cooling, supporting circulating water or direct water.
u
Model Description
The models of mine explosion-proof and intrinsically safe inverters are as follows: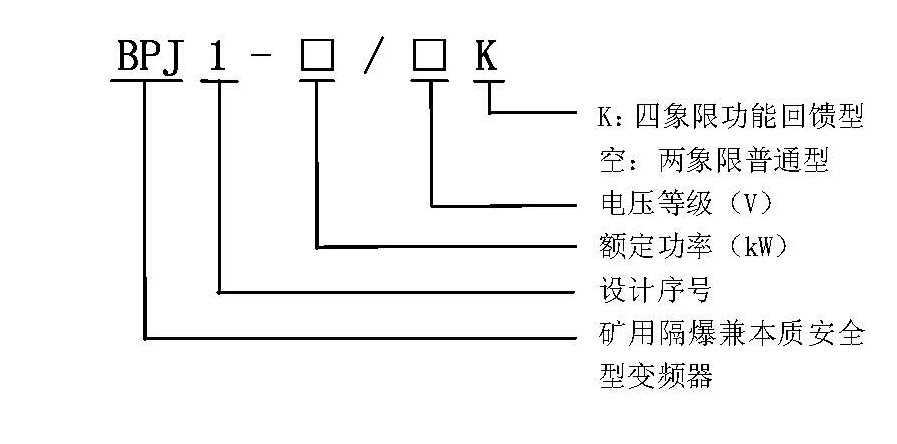 uProduct Selection Table
sequence

number

Inverter power(kW)

660V

1140V

Adapt to the maximum motor power(kW)

1

75

–

BPJ1-75/1140(K)

55

2

90

–

BPJ1-90/1140(K)

75

3

110

–

BPJ1-110/1140(K)

90

4

132

–

BPJ1-132/1140(K)

110

5

160

BPJ1-160/1140(K)

132

6

200

BPJ1-200/660

BPJ1-200/1140(K)

160

7

250

–

BPJ1-250/1140(K)

200

8

280

BPJ1-280/660

–

250

9

315

–

BPJ1-315/1140(K)

250

10

355

BPJ1-355/660

–

280

11

400

–

BPJ1-400/1140(K)(A)

315

BPJ1-400/660

BPJ1-400/1140(K)(B)

355

12

500

–

BPJ1-500/1140(K)

400

13

560

–

BPJ1-560/1140(K)

450

14

630

–

BPJ1-630/1140(K)

500

15

710

–

BPJ1-710/1140(K)

630

16

800

–

BPJ1-800/1140(K)

710

17

1000

–

BPJ1-1000/1140(K)

800
这里是标题一h1占位文字