MTC series constant permanent magnet coupler
uproduct description
The constant permanent magnet coupler is developed based on the principle of magnetic induction. It is mainly composed of a conductor rotor and a surrounding permanent magnet rotor. The conductor rotor is connected to the motor shaft, the permanent magnet rotor is connected to the working machine shaft, and the permanent magnet rotor and the conductor rotor form a fixed The air gap never touches. When the motor rotates, the relative movement between the rotors causes induced eddy currents in the conductor rotor, and the magnetic field generated by the eddy current interacts with the permanent magnet magnetic field to realize the torque transmission. When the magnetic rotor is overloaded, it can automatically bounce and pull the air gap to realize unloading. After the load is removed, the permanent disk automatically resets, thus realizing the function of torque limitation and device protection. This kind of overload protection torque transmission method is different from the traditional hydraulic coupler. Its overload response is fast, non-contact torque transmission realizes wear-free, maintenance-free, and has the advantages of vibration reduction and noise reduction, which greatly improves the reliability of equipment operation. The automatic reset function is more stable and reliable. The patented product "inner jacket type locking mechanism" independently developed by Jingji Company completely solves the defects of traditional coupler installation and disassembly, and low reliability.
uScope of application
Constant permanent magnet coupler is suitable for belt conveyors, bucket elevators, diagonal zippers, crushers and other hydraulic couplers, which can be replaced by reference.
uMain technical features
MTC series constant permanent magnet coupler
1. Buffer start
2. Eliminate vibration and reduce wear
3. No lubrication and maintenance-free
4. Simple, reliable, pure mechanical structure
5. The installation is simple, allowing large alignment errors
6. Strong environmental adaptability
7. Long service life
8. Torque limit, overload protection
9. Better buffer start and stop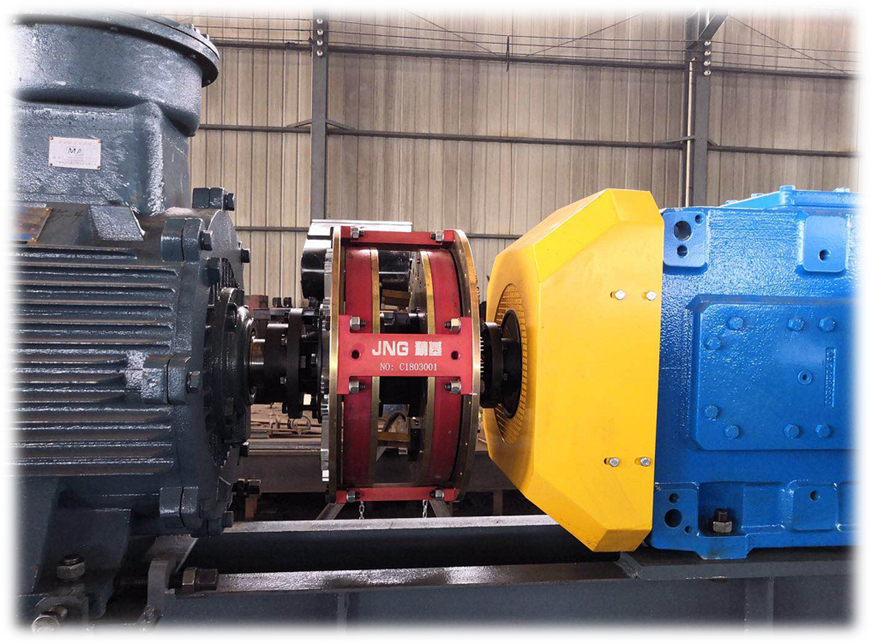 uMTC series constant permanent magnet couplerSelection parameter table
Motor Power
Centrifugal water pump/fan (SF=1.2)
High starting torque (SF=1.8 for belt conveyor etc.)

KW

3000rpm

1500rpm

1000rpm

750rpm

3000rpm

1500rpm

1000rpm

750rpm

7.5

MTC100

MTC100

MTC100

MTC100

MTC100

MTC100

MTC110

MTC110

11

MTC110

MTC110

MTC120

15

MTC110

MTC120

MTC120

MTC140

18.5

MTC110

MTC120

MTC140

MTC120

MTC140

MTC150

22

MTC110

MTC160

30

MTC120

MTC140

MTC160

MTC140

MTC160

MTC170

37

MTC110

MTC130

MTC150

MTC120

MTC150

MTC170

MTC180

45

MTC140

MTC160

MTC170

MTC160

MTC180

MTC190

55

MTC120

MTC150

MTC170

MTC180

MTC130

MTC170

MTC190

MTC200

75

MTC130

MTC160

MTC180

MTC200

MTC140

MTC180

MTC200

90

MTC140

MTC170

MTC190

MTC150

MTC190

MTC220

110

MTC150

MTC180

MTC200

MTC210

MTC170

MTC200

MTC210

MTC230

132

MTC160

MTC190

MTC210

MTC230

MTC220

MTC250

160

MTC170

MTC200

MTC230

MTC250

MTC180

MTC210

MTC240

MTC270

200

MTC180

MTC210

MTC250

MTC270

MTC190

MTC220

MTC260

220

MTC190

MTC230

MTC200

MTC240

MTC270

250

280

MTC200

MTC250

MTC260

MTC280

MTC210

MTC250

315

MTC280

400

MTC210

MTC270

MTC280
这里是标题一h1占位文字